Venue and Accommodation
The University of San Diego:
The University of San Diego (USD) is a nationally ranked Roman Catholic institution with more than 800 faculty members and 7,800 undergraduate, graduate and law students.
Governed by an independent Board of Trustees, the university has six academic divisions: the College of Arts and Sciences, School of Law, the School of Business Administration, the School of Leadership and Education Sciences, the Hahn School of Nursing and Health Science and the Joan B. Kroc School of Peace Studies. USD's values-based education offers students bachelor's, master's and doctoral degree programs.
The 180-acre campus contains buildings that encompass more than two million square feet and provide educational, administrative, residential, athletic, dining and support services.
Additional information can be found on the University website: www.sandiego.edu
San Diego's City Tour and Restaurant: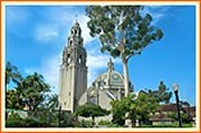 Hacienda Hotel:
You will experience the finest in traditional California hospitality at Best Western PLUS Hacienda Hotel, as well as dining, theater and sightseeing adventures.
Relax in the spacious comfort of a beautifully appointed guest room at the Best Western PLUS Hacienda Hotel, surrounded by colorful courtyards, patios, and lush landscaping. You will love the charming atmosphere, convenient location, panoramic view of the ocean, and city lights from this picturesque hillside retreat.
All of this is just footsteps away from the unique galleries, restaurants and boutiques in the neighboring historic Old Town. Old Town is known as the heart of San Diego, where California began more than 200 years ago.
Just three blocks away from the Hacienda Hotel is the Old Town trolley station on Taylor Street. The trolley links to downtown San Diego, the Gaslamp Quarter, Qualcomm Stadium, Tijuana-Mexico, Fashion Valley and the Mission Valley shopping centers.
Attendees may call the hotel at (619) 298-4707. Mention you are a part of the USD Functional Foods in Health and Disease Conference group, to reserve rooms. Reservations for the November 17-20, 2014 are available at the conference special rate of US $130 + tax per night. This rate is available now through October 17, 2014. Hotel Features: free airport shuttle, free continental breakfast and dinner, free high speed internet, pool and more.
Rate to include full El Presidente Benefits, which includes breakfast, dinner and two drink coupons per day in the Old Town Tequila Factory Restaurant & Cantina. Each additional guest in a room is $10.00. If an additional person requests the benefits, the cost is $24 per day. Rate does not include the 10.5% San Diego Transit Occupancy Tax and the 2% San Diego Tourism Marketing District Assessment Fee. The Best Western PLUS Hacienda Hotel will add a $7.00 Facility Fee per night to our daily room rate (taxes and surcharges are subject to change). Overnight parking is $14.00 per car per night.
Hotel Location: 4041 Harney St, San Diego, CA 92110
Reservation:
Reservations are due by October 17, 2014. To make reservations, guests may call the Best Western PLUS Hacienda Hotel directly at (619) 298-4707 or book online at www.haciendahotel-oldtown.com. An online group booking code was prepared for our group. The password for our guest booking is FFCUSA
Visit hotel website (Not Best Western's): www.haciendahotel-oldtown.com
Click on Make Your Reservation (Individual, Package or Group)
Click on Book Now! Hotel Direct Reservations
Scroll down
Enter dates
Enter group code
Check rates and complete reservation
The City of San Diego:
The most difficult aspect of planning a trip to San Diego is deciding what to do, what to see and where to go.
As California's second largest city and the United States' 8th largest, San Diego boasts a citywide population of nearly 1.3 million residents. Within its borders of 4,200 sq. miles, San Diego County encompasses 18 incorporated cities and numerous charming neighborhoods and communities, including downtown's historic Gaslamp Quarter, Little Italy, Coronado, La Jolla, Del Mar, Carlsbad, and Hillcrest, to name a few.

San Diego is renowned for its idyllic climate, 70 miles of pristine beaches and a dazzling array of world-class family attractions. Popular attractions include SeaWorld San Diego and LEGOLAND California. Balboa Park, the largest urban cultural park in the U.S., is home to 15 museums, numerous art galleries, beautiful gardens, the Tony Award-winning The Globe Theatres and the world-famous San Diego Zoo. San Diego offers an expansive variety of things to see and do, appealing to guests of all ages from around the world.
Additional information can be found at: http://www.sandiego.org/nav/Visitors
Transportation:
San Diego Bus/Trolley - San Diego Public Transportation is known for its reliability, safety and convenience. Often called San Diego's "moving landmark", the Trolley is also a fun way to get around. The Trolley serves historic Old Town, Mission Valley, Fashion Valley, Petco Park and Qualcomm Stadium, among other popular San Diego destinations.
More information regarding bus and trolley schedules as well as fare prices can be found at: http://www.sdmts.com/
Taxi Service – San Diego County's taxi services are a great way to get around and see the sights without having to be in the driver's seat. Ideal for commuting from the airport, cruise ship terminal or traveling from your home or hotel room to a nearby destination, taxis are a quick and convenient way to get around town. Choose the company that best fits your needs and kick your feet up while enjoying San Diego's scenery.
Silver Cab: 619-280-5555
Orange Cab: 619-291-3333
Yellow Cab: 619-444-4444
For more information about taxi companies and rates per mile: http://www.sandiego.org/article/Visitors/1326
Car Rental – San Diego car rentals offer convenient means of transportation during your stay, or just a fun way to get around. If you decide to rent a car while in San Diego, the centrally-located airport is served by all major car rental agencies, and reservation boards with courtesy phones are located near the baggage claim areas of Terminals 1 and 2. Shuttles regularly circle in and out of the airport to car rental outposts spotted near and around the airport. Many of them are on Harbor Drive and near the Commuter Terminal.
Many car rental companies also provide convenient pick-up services at several San Diego hotels. Be sure to make reservations and arrangements ahead of time. Many hotel concierge services can also offer these services, so check with your hotel on what they can provide for you.
Enterprise Rent-A-Car: 619-696-5000 or 800-261-7331
Budget Rent-A-Car: 619-542-8686
AVIS: 619-231-7137 or 800-331-1212
Additional information can be found at: http://www.sandiego.org/article/Visitors/1399