FFC's Standardized Program
FFC's Standardized Program for Functional Food Scientist/ Professional Certification has been recently updated to include new readings, lecture videos, and live Zoom classes every Wednesday! Please visit the link below and watch our educational video on YouTube.
The third live Zoom seminar is this Wednesday, November 24th, 2021 at 9:30am PT (California, USA).
https://us02web.zoom.us/j/85197378295
If you haven't decided if you would like to pursue this program, attending this seminar would be a great opportunity to experience what the program is like.
If you would like to attend, email us at ffc@functionalfoodscenter.net.
To learn more about the Standardized Program for Functional Food Scientist/ Professional Certification, read our last newsletter below.
---

Click the ceritifcate to learn more about each CFFS!
---
Shawn Talbott, PhD, Chief Science Officer, Amare Global, Irvine, CA, USA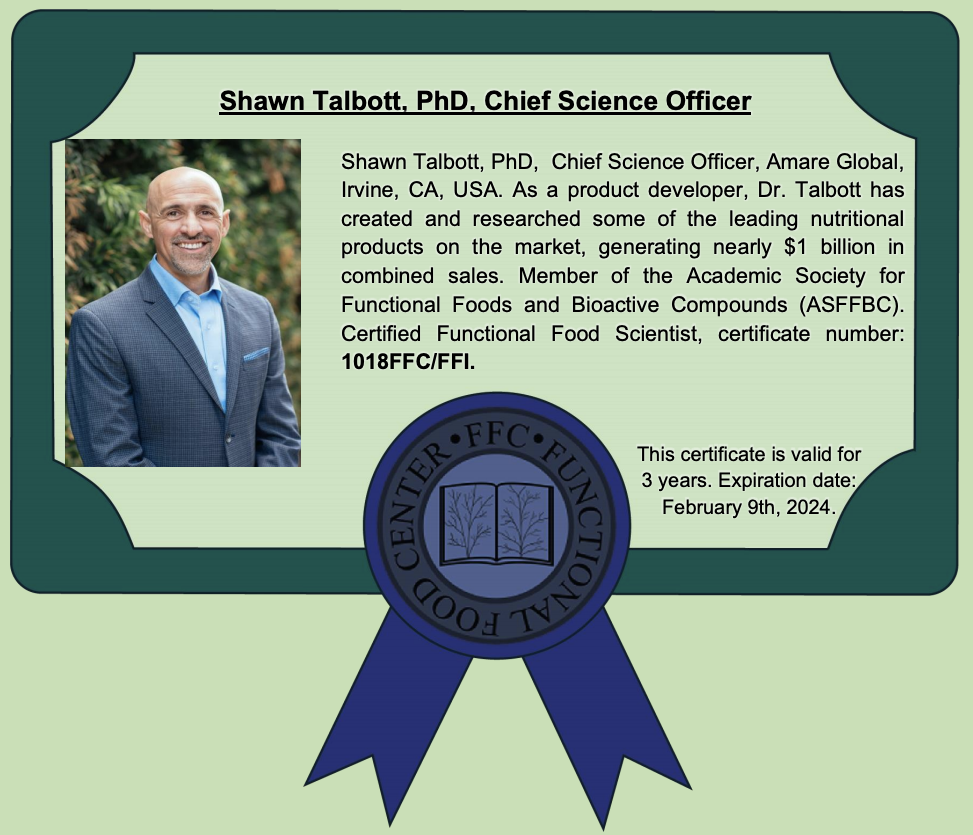 Bernard W. Downs, Founder and CEO, Victory Nutrition International, Inc. Lederach, PA, USA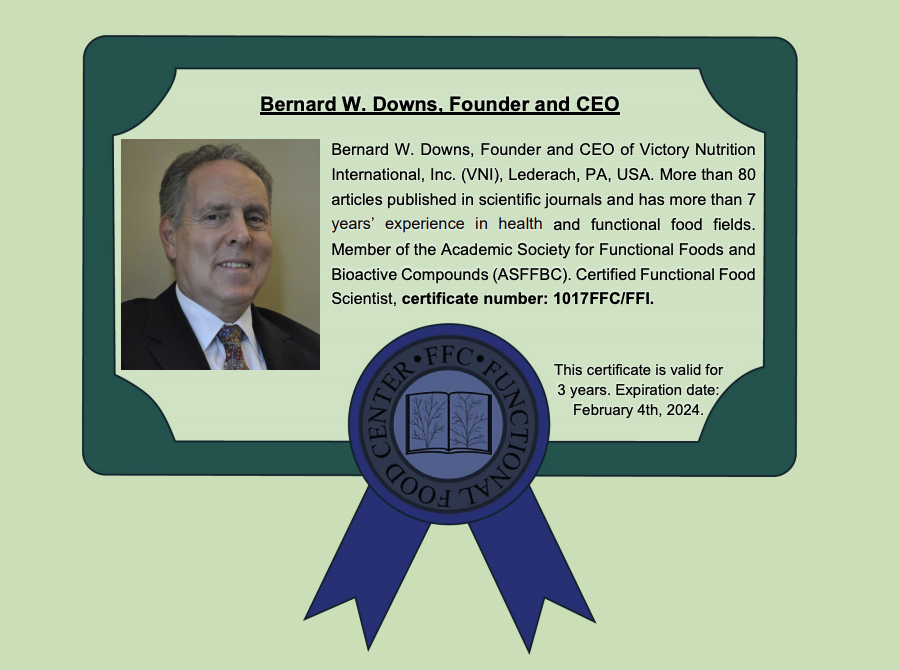 Ping Ouyang, PhD, Assistant Professor, Western Michigan University, Kalamazoo, MI, USA
Uwe Albrecht, MD, Mediconomics GmbH, Hannover, Germany
Click this link to see full list of certified Functional Food Scientists and Professionals.

Certified FFS/FFP

---
ASFFBC Membership Benefits
November 17th, 2021
By FFC Staff
Hello Readers,
We are excited to announce our new membership categories and prices for the Academy of Functional Foods and Bioactive Compounds (ASFFBC). As an ASFFBC member, you can receive benefits such as discounts on publications and conference registrations, invitations to exclusive webinars, reduced prices on certification courses, access to the FFC Encyclopedia, and more!

For the past few months, we have been researching and developing ways to improve our membership prices and benefits based on the needs of our members. Prices are now adjusted to be more affordable for all of our members, and new benefits have been added.
---
---
Student Membership: $34/year – Current Full-Time Undergraduate and Graduate Students
Early Career Membership: $129.00/year – Any individual within five years of receiving a doctorate degree or young professional who has completed a nutrition, food science, or related degree within the past five years is eligible to apply
Academic/Premier/Associate Membership: $139/year – Any individual with a degree in food science, general biologi, or a related field. Scientists, government employees, and medical or food industry representatives are eligible to apply
Corporate Memberships: $595/year – Beneficiaries include up to 5 chief officers of business leaders
Emeritus Memberships: $24/year – Any retired ASFFBC member ages 67 or older and in good standing with the ASFFBC for at least 5 years. Emeritus members must not be employed.
---
---
How to register:
Complete and submit your registration form

Submit your membership fee online. Memberships last 1 year and must be renewed annually to maintain membership.

Registration Form Submit your Registration Fee
To read more about our new membership options and benefits below, please click the button below:
---
---
FFC 30th Conference: ASFFBC Discount:
One of our best benefits is discounted registration fees for our conference. For the FFC's 30th International Conference: Mediterranean Diet, Functional Foods and Bioactive Compounds: Science and Practice, you can receive discounts for early registration AND being an ASFFBC member.
This event will be an in-person and online/virtual conference, which will be hosted at the University of the Aegean, Lemnos, Greece on September 23-25, 2022.

Learn more about the conference here: https://www.functionalfoodscenter.net/ffc30.html
---
---
| | | |
| --- | --- | --- |
| Registration Type | Sept.1, 2021 to Jan. 1, 2022 | Jan. 1, 2022 to April 1, 2022 |
| Student Registration, Non-Members | 95.00 | 145.00 |
| Student Registration Rate, Members | 65.00 | 115.00 |
| Regular Registration, Non-members | 395.00 | 495.00 |
| Regular Registration Rate, Members | 295.00 | 395.00 |
---
---