Register for the Standardized Program of Study (SPS) Today!
Become a Certified Functional Food Scientists/Professional today!
You can earn all 80 credits required to become a Certified Functional Food Scientist by completing the SPS.
---
Through this program, you will complete the following toe earn your certification:
8 pre-selected chapters from our Functional Foods textbook series
a few quizzes,
a final exam
---
How Do I Get Started?
1. Completed your application form.
2. Submit payment of $695 ($595 for ASFFBC members)*
LIMITED TIME OFFER
Use the code Standardized_100 to get $100 OFF of you SPS program fee*
3. We will schedule an online Zoom meeting in order to discuss you interests in more depth and agree on a personalized project for you to complete over the course of the program
Check out our informational webinar to find out more about SPS and the benefits of becoming a Certified Functional Food Scientist or Professional!
Have any questions?
Email us at ffc@functionalfoodscenter.net
---
---
Corporate Address: 5050 Quorum Drive, Suite 700, Dallas, TX, 75254, USA
Web:
www. functionalfoodscenter.net

Email:
ffc@ functionalfoodscenter.net
FFHD & BCHD

Published Articles and WoS Updates
July 24th, 2021
By the FFC Staff
Hello Readers,
Check out our featured published May 2021 articles from our journals Functional Foods in Health and Disease (FFHD) and Bioactive Compounds in Health and Disease (BCHD)
Click the buttons below to read fascinating research regarding functional foods and bioactive compounds.
Functional Foods in Health and Disease (FFHD)
Black tea decreases postprandial blood glucose levels in healthy humans and contains high-molecular-weight polyphenols that inhibit α-glucosidase and α-amylase in vitro: a randomized, double blind, placebo-controlled, crossover trial by Yoshikazu Isono, Hisako Watanabe, Masafumi Kumada, Tsuyoshi Takara, and Shin-ichiro Iio
---
Serum levels of vitamin D, calcium, phosphorus, and oxidative parameters in healthy and diabetic people by Maryam Barghi, Amir Sadeghipoor Ranjbar, Homa Moazen, Narges Eskandari-Roozbahani
---
Can functional foods reduce the risk of disease? Advancement of functional food definition and steps to create functional food products by Danik Martirosyan, Hunter Kanya, Camila Nadalet
---
---
Bioactive Compounds in Health and Disease (BCHD)
FOSHU-approved Fibersol®-2 product review by Stella Chen, Danik Martirosyan
---
Saffron and Depression by Sedigheh Asgary, Zeinab Yazdiniapour
---
---
Web of Science (WoS) J

ournal Citations Update
Using the citation reports provided by Web of Science (WoS), we have been able to monitor and understand the steady growth of the FFHD journal relative to other high-ranking journals featured on Web of Science.
Citation reports generated from Web of Science (WoS) have allowed us to track the growth of our journal FFHD compared to other high-ranking journals available on the WoS. We are please to announce that our H-index has increased to 18.
We would like to take this opportunity to thank you for supporting the growth of FFHD through the years by continuing to read and cite our articles. Below is an overlook of how much our journal has grown over the past few years.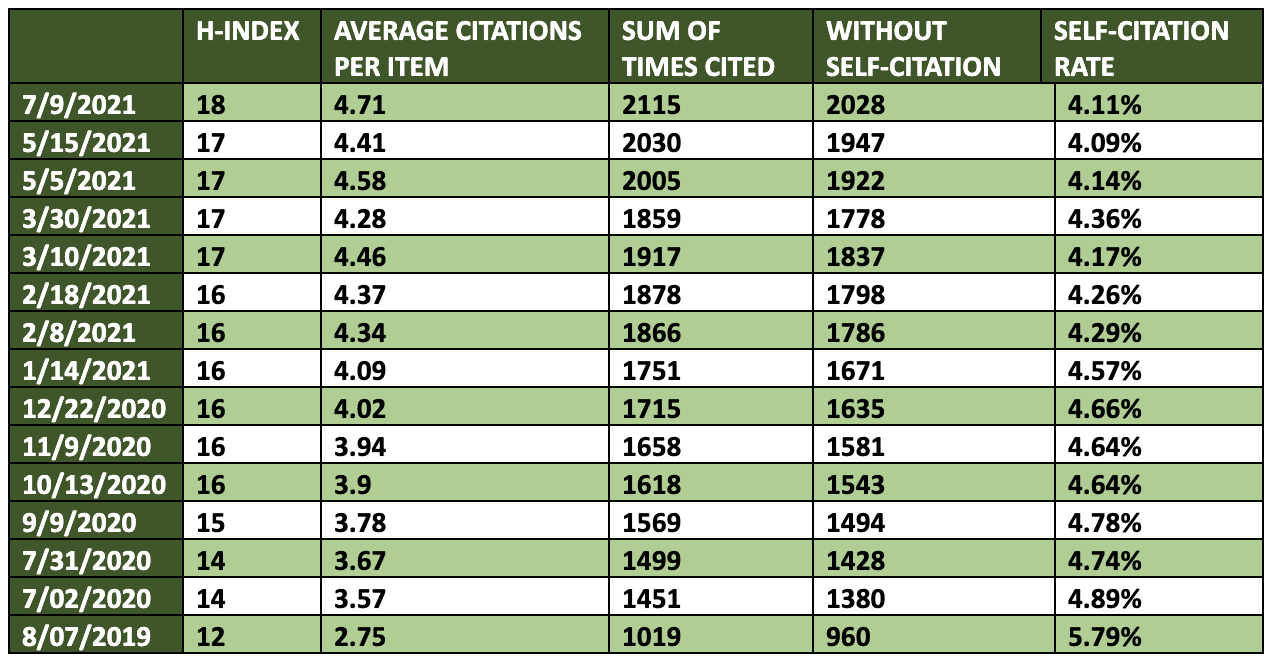 We encourage you to visit our journal website, https://ffhdj.com, to read our open access, peer-reviewed articles. If you find anything relevant or valuable to your work, make sure to cite our articles in your own research.
---
---
Interested in publishing your research?
Please also consider submitting articles to either the FFHD or BCHD journal!
You are receiving this newsletter because you are a valued member of our academic society and, as such, these published articles.
Click the buttons below to see more of our published articles or learn how to submit an article!