Certified Functional Food Scientist/Professional Program
Interested in expanding your career and your knowledge of functional foods?
Become a Certified Functional Food Scientist or Professional!
To get certified, you must earn 80 credits.
Credits can be earned in a variety of ways, including participating in our upcoming conference (up to 20-30 credits)!
---
Featured Functional Food Scientists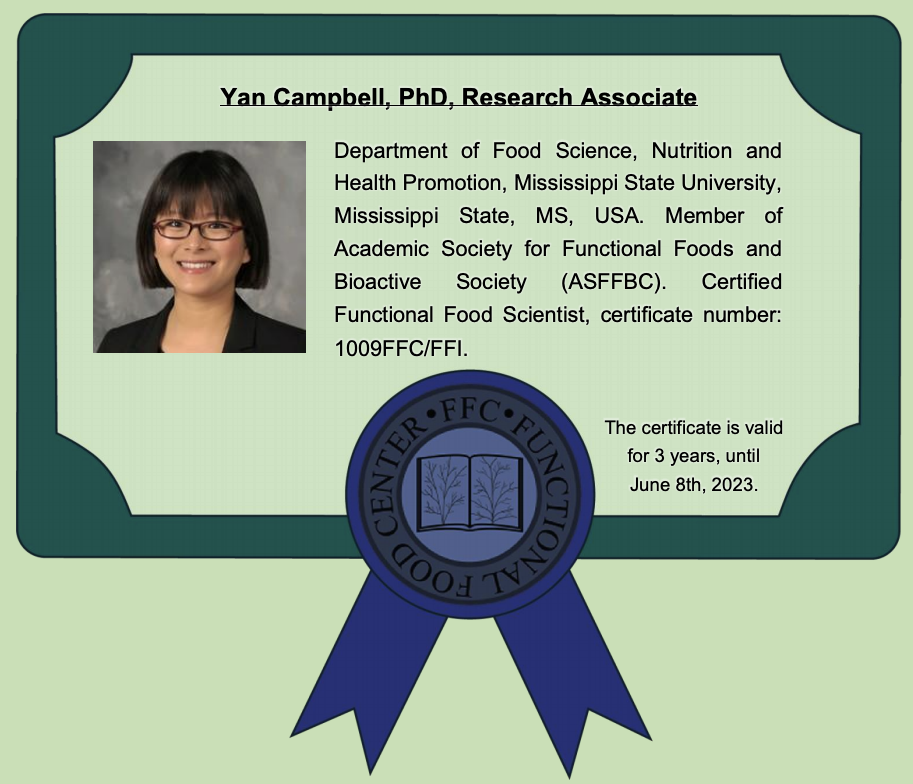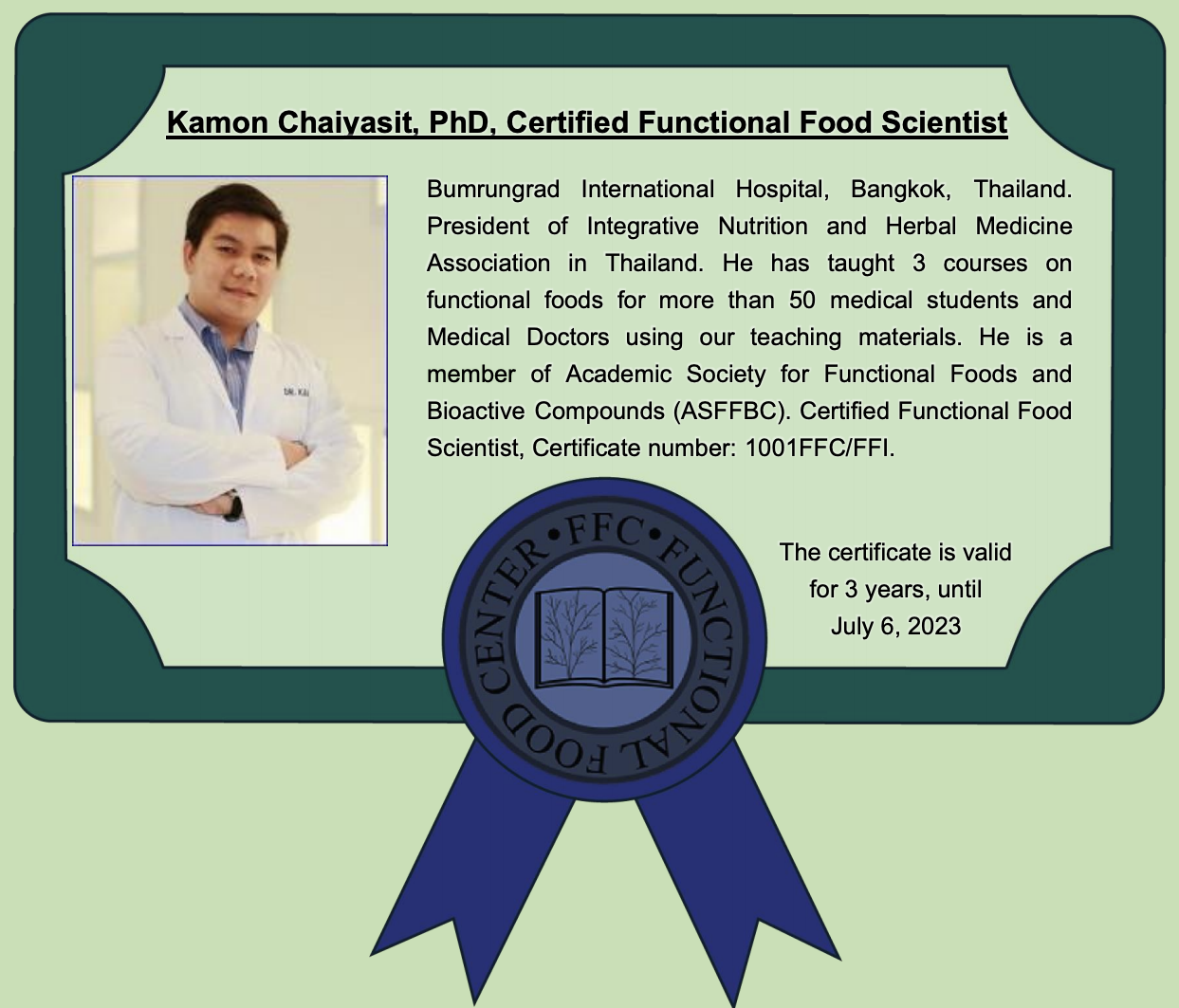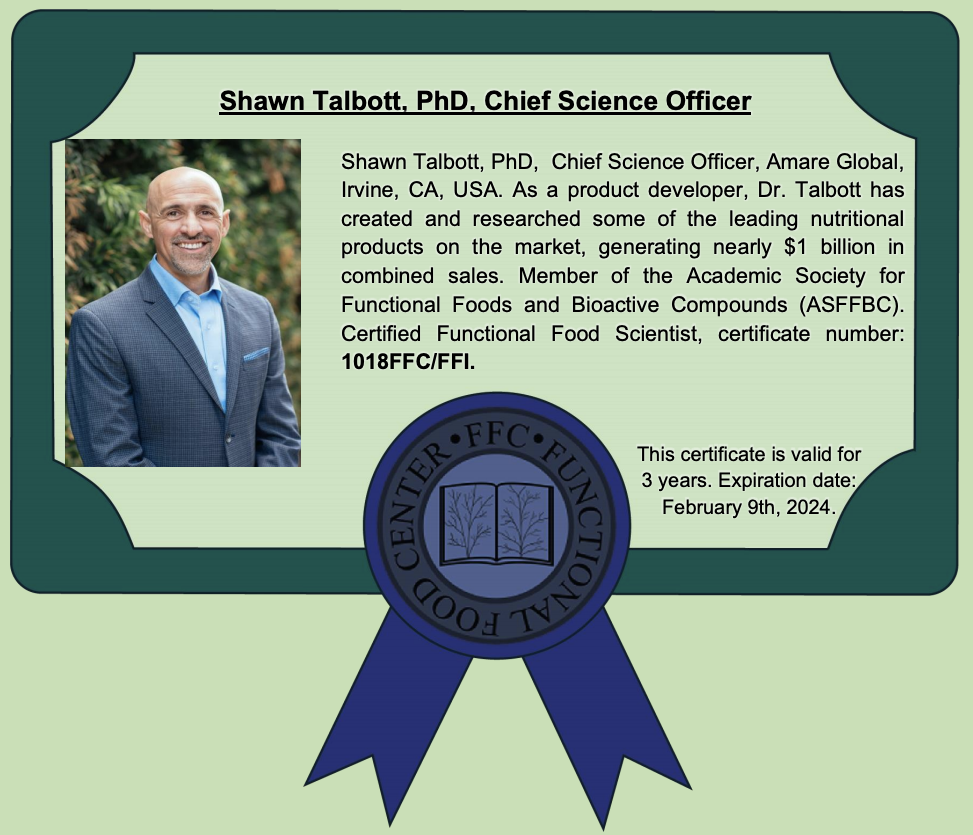 ---
Have any questions? Email us at ffc@functionalfoodscenter.net.
The Functional Food Center Certification Program

Dear Readers,

Are you interested in furthering your career by expanding your knowledge in functional foods? The Functional Food Center currently offers 3 programs that offer certification to become a Functional Food Professional or a Functional Food Scientist. There are many benefits to becoming certified, whether you are a scientist, healthcare provider, industry professional, instructor, student, or someone who would like to learn about the emerging field of functional food science. For example, our certified professionals have used their certification to incorporate nutrition counseling into their healthcare practice or to teach their own courses on functional food and nutrition.

Our programs are flexible and customizable. Students will have many options for choosing what they want to learn and how they want to learn. Depending on the program, students may also have the opportunity to learn directly from experts in the functional food field, publish in one of our 3 open-access journals, or present at our annual international conference.

80 credit hours are required for completion of certification and certificates are valid for 5 years.

Fill out an application form to get started. You can also head to our Certification webpage to learn more about our programs, benefits, and pricing. Read on for a summary of the certifications we offer and the 3 programs we have available.

You can email ffc@functionalfoodscenter.net with any questions.
---
Certifications

Functional Food Scientist (FFS): This certification is available to those who hold a PhD, MD, or are pursuing one of those degrees in a field of science.
Functional Food Professional (FFP): This certification is available to those who are ineligible to become a Functional Food Scientist.
Both certifications will equip you with the knowledge to incorporate functional foods into your career and/or daily life. You will leave with a deeper knowledge of functional food science and will be able to critically engage with current research in that field.
If you are not sure of which certification is the right one for you, fill out an application or email us and we can figure it out together.
---
Programs

Standardized Program of Study (SPS): This program offers an objective and standard route to FFS/FFP certification. Students complete their certification at their own pace with support. The curriculum involves 8 textbook chapters, seminars, or journal articles (students can choose what they use to learn) with quizzes at the end of each section. There will be a final multiple-choice exam at the end.

Guided Program of Study (GPS): Students receive daily guidance to complete their lesson plan and personalized project on a functional food topic of their choice. This program is unique in that students get to learn about functional foods directly from experts in the functional food field.

Personalized Project Program (PPP): This program is both flexible and customizable. Students work with instructors to create a self-guided and personal lesson plan constructed from textbook chapters, seminars, or journal articles and complete a final project to earn certification.

For a directory of students who have completed FFS or FFP certification, click here. You will also be acknowledged on our website once you have completed your certification.