Functional Foods and Healthy Aging Textbook
Interested in submitting a chapter for our upcoming textbook Functional Foods and Healthy Aging? It's not too late! We have extended our submission deadline to March 31, 2019!
Follow the steps below if you are interested in submitting a chapter:
Send us an abstract regarding the topic you would like to write your chapter on as soon as possible. Click here to see suggested topics. Send your abstract to ffc@functionalfoodscenter.net

Once your abstract is reviewed, we will review your abstract for approval, then share our chapter sample for the textbook.

Once you have received our approval, please make sure to submit your final draft by March 31, 2021.
If you are interested please visit the page here: Potential Topics for "Functional Foods and Healthy Aging" textbook.
---
---
FFC's Seminars/
Webinars
Recently, we have been holding seminars/webinars about various functional food science topics over Zoom.
Our next webinars are scheduled for
1. March 19, 2021, 10:30 am (Pacific Time) and will be called "An Approach to Find an Antiviral Functional Tea."
This presentation will be given by FFC Intern Amanda Conte, Student from the University of Miami, Coral Gables, Florida, USA (FFC's intern) and FFC President Dr. Danik Martirosyan.
2. March 26, 2021, 11 am (Pacific Time) and will be called "The New Standardized Functional Food Certification"
This presentation will be given by Sofia Migues and FFC President Dr. Danik Martirosyan.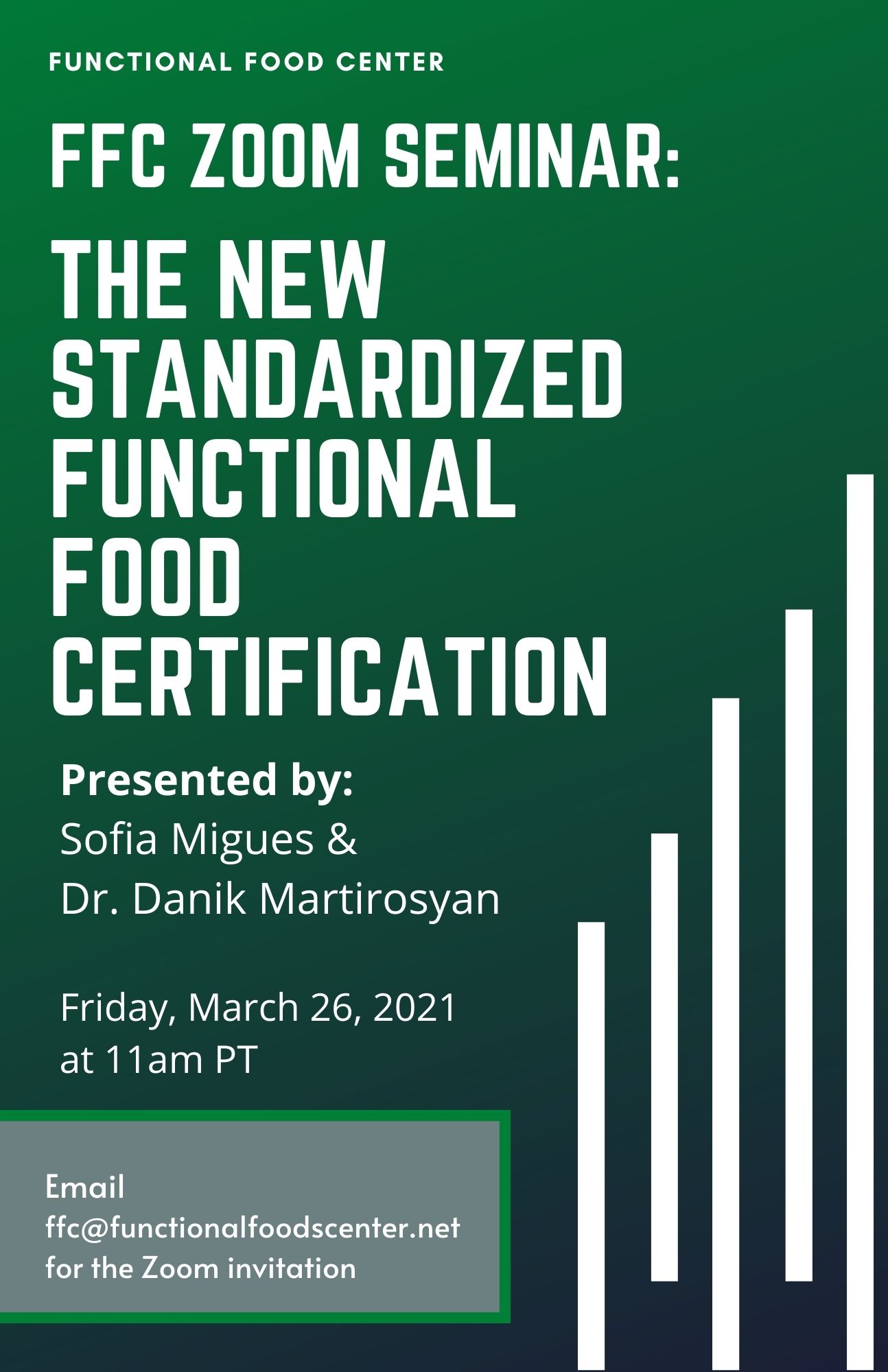 Interested in attending?
Contact us at ffc@functionalfoodscenter.net
and we will share the Zoom link with you.
In addition, please email us you would like to present at one of our future webinars/seminars.
---
---
Please Note: Abstract submission deadline has been extended to March 25th, 2021, 5 pm (PST).
The Abstract Submission must be in MS Word format and must be submitted as an email attachment to the conference secretary to
ffc@functionalfoodscenter. net
While you may send only an Abstract of your talk to be included in the Book of Abstracts of the Conference you can also send a full paper(6-9 pages) to be considered for the conference proceedings or journal article.
---
---
Corporate Address: 5050 Quorum Drive, Suite 700, Dallas, TX, 75254, USA
Web:
www. functionalfoodscenter.net

Email:
ffc@ functionalfoodscenter.net
---
---
FFC 29th Conference Updates: Featured Lecturers, Registration Discount, and Exhibitor Information
March 20th, 2021
By the FFC Staff
Hello Readers,
We are counting down the days until FFC's 29th International Conference on April 29th-30th, 2021! With the conference less than 1.5 months away, we are delighted to announce that 2800 attendees have already decided to join us for this highly anticipated event.
Recently, we reviewed the analytics of what industries our attendees are coming from, and we were pleased to see that our attendees are coming from various backgrounds, including the fields of food science and medicine, the food industry, healthcare, and more.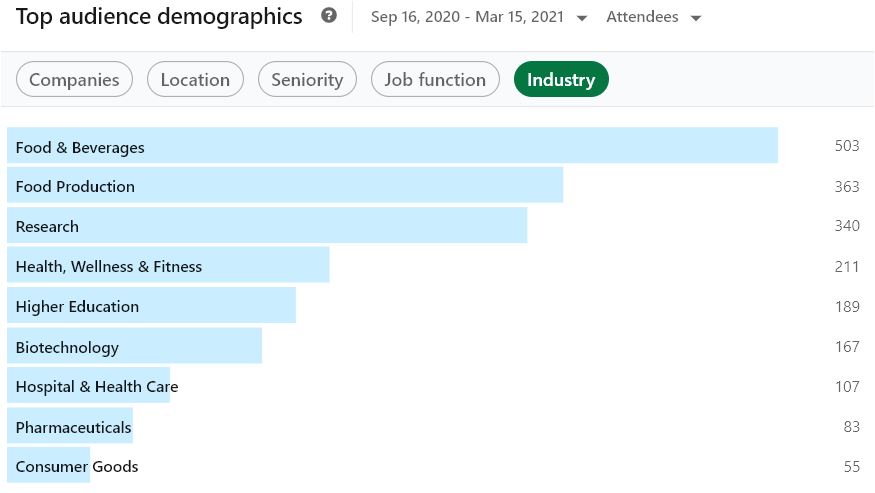 Interested in joining our growing number of attendees? Read further to learn more about how to register and how to receive a limited-time discount on your registration fees.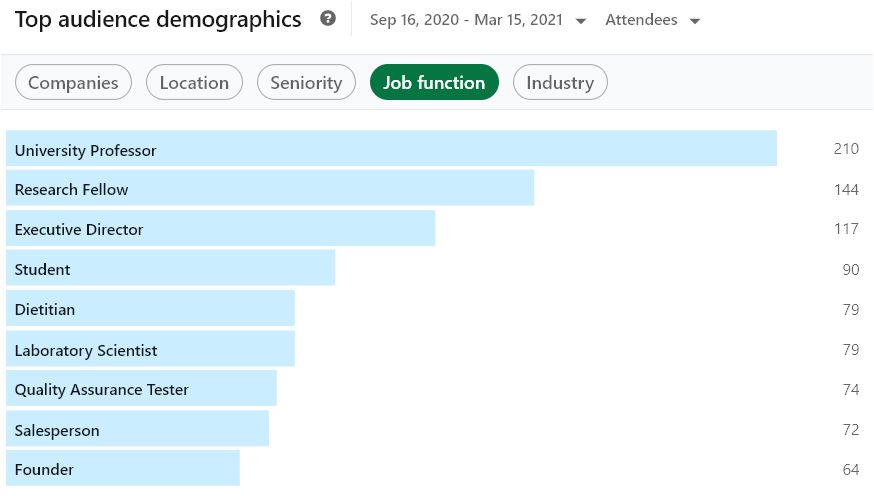 ---
Conference Presenters
We are pleased to provide you with a preview of some of our esteemed presenters who will be speaking at this upcoming conference.
Mona Boaz, PhD. Chairperson and Professor, the Department of Nutrition Sciences at Ariel University, Arial, Israel
Presentation: Dietary changes and anxiety during the coronavirus pandemic: a multinational survey
Prof. Mona Boaz is an epidemiologist whose research focuses on nutrition as a risk factor for morbidity and mortality outcomes. She has more than 200 scientific publications in top nutrition and medical journals. As an epidemiologist, Prof. Boaz has served as a research consultant on hundreds of studies in the fields of nutrition, neurology, gynecology, gastroenterology, endocrinology, virology, pharmacology, anesthesiology, and internal medicine. She has also consulted for projects in the area of health policy and quality assurance.
Amrendra Ajay, PhD: President and Medical Director, Department of Medicine, Renal Division, Harvard Medical School; Brigham and Women's Hospital, Boston, MA, USA
Presentation: COVID-19 and Acute and Chronic Kidney Injury and Functional Food
Dr. Amrendra Ajay is an instructor in medicine and Harvard Medical School. As a graduate student, he studied the molecular mechanism of chemotherapeutic drug induced tumor regression and cellular signaling. He also worked on drug development and biomarkers of acute kidney injury using genetic mouse models and cellular signaling. He is currently working on finding biomarkers and therapeutic targets for chronic kidney diseases.
To learn more about other presenters who will be speaking at this conference, please visit our conference's Presenters page. Presenters page
---
Conference Registration Discount
Thank you so much to those who have participated in our recent survey posted on LinkedIn. Results from our survey demonstrated that 54% of participants found our conference registration rate a little expensive. In light of any financial struggles experienced during the current pandemic, we have provided a $50 discount for anyone who registers for the conference.
If you register and pay within 48 hours of receiving this newsletter, you can use the code FFC29-$50 at checkout to get $50 off. Don't miss out on this amazing opportunity. To register, make sure you follow all of the steps listed below:
Fill out our conference registration form on our website: conference registration form
Visit our online store to submit your registration fee: online store
Enter the code FFC29-$50 to receive your discount!
---
Calling all exhibitors!
Want to present your product to a global audience? Register as an exhibitor for FFC's 29th International Conference, and you will have the opportunity to share your product with our growing audience of over 2800 attendees on a virtual platform.
Why exhibit at FFC's 29th International Conference?
Contact us at ffc@functionalfoodscenter.net for more information! We would be happy to assist you with this process and discuss the ways in which we can benefit you and your company over Zoom.