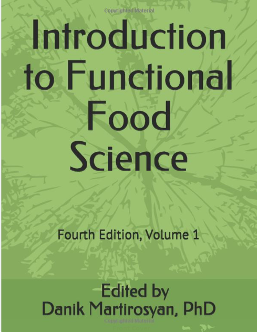 ——————————
Customer Reviews
——————————
***
5.0 out of 5 stars: Timely Coronavirus (COVID-19) chapter, forefront of innovation, science, and research in the field!
Reviewed in the United States on April 22, 2020.
Any textbook by the Functional Food Center team is highly recommended by me. However, this updated version caught my eye due to the timeliness of the Coronavirus (COVID-19) chapter. Money well spent! This team is at the forefront of innovation, science, and research in their field!
——————————
***
5 out of 5 stars: This new 4th edition Introduction to Functional Food Science textbook provides great insight into the world of functional foods.
This textbook provides a clear and understandable introduction to functional foods as well as detailed research on the applications of bioactive compounds and functional foods. As an undergraduate biochemistry student, I especially appreciated the summary sections and test questions at the end of each chapter. This new edition is expertly written and provides cutting edge information on the antiviral properties of some functional foods and their use to fight viral diseases like the coronavirus. I would highly recommend this textbook to researchers, students, healthcare professionals, or anyone interested in the potential health benefits of functional foods.
——————————
***
5 out of 5 stars: This is an incredibly well-written textbook that's not only extremely informative but the information is presented in a really captivating way.
The collaboration between international researchers and programs to put together this resource is invaluable and it's created a textbook that is a must-have tool for teaching and learning about functional foods. I really appreciate the well-rounded and comprehensive nature of the book as well as it's clear intentions of teaching by including easily accessible vocabulary and sample questions. It's also incredibly relevant, modern, and topical, including analyses and understandings of functional foods in terms of the recent coronavirus. I highly recommend this textbook if you want to learn or teach about functional foods
New Textbook Edition With Chapter on Viral Diseases!
April 25, 2020
We are excited to announce the newest addition to our Introduction to Functional Food Science 4th Edition, Volume 1 textbook. This new chapter titled "Coronavirus (COVID-19 or 2019-nCoV) Infection: Food and Nutrition Suggestions", provides information on the use of functional foods and bioactive compounds to prevent and manage chronic and viral diseases including influenza and coronaviruses.
Special Discount!
Our readers and subscribers are eligible for a 30% discount when purchasing from the FFC website: introduction-to-functional-food-science-fourth-edition-2020. Use the coupon code: Readers30% to save. Price with discount is only $157.50 plus free shipping! (originally $225 USD) Don't miss out on this incredible savings; the discount is available for a limited time only and must be redeemed within 48 hours of receiving this email. Click the link above to order your copy of Introduction to Functional Food Science today! If you are interested in an E-Book version of this textbook please contact us via email at FFC@functionalfoodscenter.net
About the Textbook
This book presents not only innovative functional food ideas for managing chronic illnesses, but also the processes and scientific research which lead to these modern yet time-honored treatment methods. This textbook provides modern information on functional food components, including antioxidants, dietary fibers, prebiotics, plant sterols, bioactive peptides, and flavonoids, and many other phytochemicals.
In this fourth edition of our textbook, our editorial board has included additional information and resources in order to enhance the learning experience of our readers. These additions include detailed editing of articles, new figures, tables, and pictures, end of chapter summaries for each chapter, test questions with correct answers, an updated glossary with new key words, and a chapter discussing viral diseases.
Use Coupon Code: READERS30%
A Closer Look at This Chapter
Important topics discussed in this new chapter include: antiviral properties of plants, the use of probiotics to strengthen the immune system, vitamins and minerals, and other immunity boosting compounds.
Several plants and herbs are recognized as having antiviral properties. This chapter takes a closer look at 15 different medicinal plants as well as different vitamins, micro, and macro elements used to boost the immune system. Some of these plants include Salvia officinalis (shown above), Chelidonium majus L., Thuja occidentalis, Pelargonium sidoides, Hypericum perforatum L., Psoralea corylifolia, and Broussonetia papyrifera. Salvia officinalis as well as other plants studied proved effective when administered prior to infection as well as during the course of the infection. Data from preclinical and clinical studies is also provided in several tables for comparative analysis.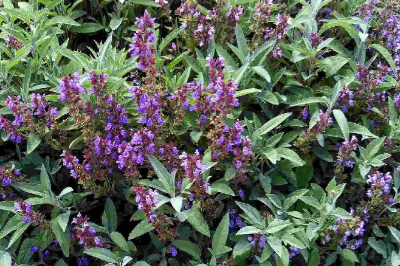 COVID-19 Update
Here at Functional Foods Center we have been working hard to expand our understanding of the coronavirus and how functional foods and bioactive compounds play a role in the fight against this global pandemic. Our focus is on functional foods and bioactive compounds and how they can enhance and support the immune system. A strong immune system is an important factor in the management and defense against viral diseases like coronaviruses.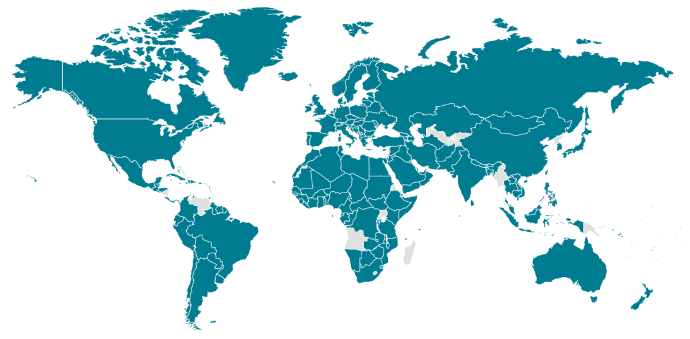 We are curious how pre-existing conditions, diet, education, and demographics impact the virus from country to country. We believe understanding the statistics related to these factors will help us better understand how to fight COVID-19 and other viruses.