Here are some frequently asked questions about our certifications. If you would like more detailed information, please visit the "Certification" page of our website.
1. What's the difference between a Certified Functional Food Scientist and a Certified Functional Food Professional?
The title of "Certified Functional Food Scientist" applies to those who hold a PhD, Md, or are pursuing one of these degrees in a field of science. A "Certified Functional Food Professional," however, applies to all others that are ineligible to apply for a position as a Functional Food Scientist, but would still like to pursue a certification in order to expand their understanding of functional foods.
2. How are my earned credits tracked?
The FFC has a code of professional conduct that expects honesty about earned credits. We trust those pursuing a certification to independently track their credits and the places where they obtained them. When filling out the application form, you must list the number of credits you earned and the activities from which they were obtained. It is also expected that these credits are related to the learning of functional foods.
3. What are some benefits of obtaining these certifications?
There are many benefits to these certifications that can be gained from students or professionals in the field. They can be useful for a range of individuals such as dieticians and nutritionists, physicians and nurses, researchers, food scientists, and students studying food and nutrition. Here are a couple of benefits that may be gained through this certification:
a) It sets you apart from other employees in your knowledge of functional foods and the current research being published. This will allow you to apply interdisciplinary techniques involving functional foods in your own work.
b) This certification may also enhance the chances of obtaining a university grant, allowing you to contribute knowledge through articles and gain recognition in health care settings.
c) You will be seen as a higher professional for learning new skills and staying up to date on the latest research. Your academic and work background will be of greater quality and much more diverse than others.
Become a Certified Functional Food Scientist or Functional Food Professional
By Charlotte Giordano and Danik Martirosyan
Hello, we hope this message finds you well. We would like to invite you to look into our program allowing you to become a Certified Functional Food Scientist or a Certified Functional Food Professional. If you've attended one of our conferences, interned for us, or contributed to our journals, you already have a head start on obtaining your certification! Here is a simple step-by-step guide to help you get started.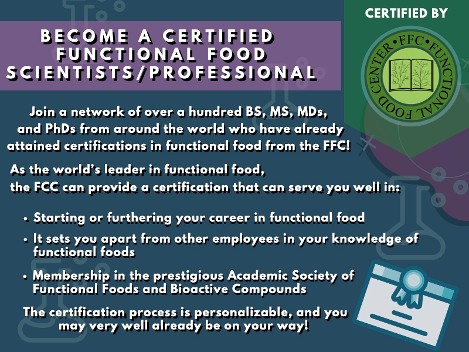 1. Earn Credits
In order to be eligible, it's first necessary to earn 60 credits from any of the following activities:
Attend the Functional Food Center's International Conferences - By attending two days of conferences, you will typically earn 16-20 credits. Speakers and presenters are awarded an additional 10 credits per conference.
Review the FFHD Journal Articles and Book Chapters - You can receive up to 3 credits for each journal article review and 3 credits for each book chapter review.
Contribute to FFHD Journal Articles and Book Chapters - You can earn 10 credits per written article.
Complete Functional Food Center Courses - By successfully completing an FFC course, you will gain all 60 credits.
Teaching or Studying Functional Food Courses Using Our Textbooks - The amount of credit hours awarded will depend on how many academic hours are spent with instruction or study using our textbooks.
Special Short Courses - We can also craft special short courses tailored to your area of interest that may be successfully completed to earn 60 credits.
Functional Food Center Interns - If you have already completed an internship with the FFC in the past three years, you will be eligible for 60 credits.
2. Apply
Submit an application on our website outlining your experience in functional foods and the credits you have completed to provide proof of this.
3. Make a Payment
The pricing for a certification starts at $500, but if you are a student or a member of the ASFFBC, you can become certified at only $400. Payment is conducted through our online store.
4. Complete an Interview
We will schedule an interview with you that will take the place of a qualification examination. The interview will take about an hour and will allow us to talk with you about topics in functional foods and see how much you've learned from your credited experiences.
If you're interested or have any questions, send us an email at ffc@functionalfoodscenter.net describing how you'd like to earn your credits. Further information about our certification can be found on our website including what the benefits are, how this certification may help advance your career, and why the FFC is best suited to teach you about functional foods.