Here are some frequently asked questions about the GPS program. If you would like more detailed information, please visit the "Guided Program - GPS" page of our website.
1. What's the difference between the GPS program and a regular online course?
The most important difference between the FFC GPS program and other online courses is the hands-on, guided study model. This unique guided program allows for a more practical understanding of healthy and functional food concepts and an active involvement in the current functional food sphere. Additionally, unlike other online courses, troughout the GPS program, you will have day-to-day discussions about your personalized project and the learning material with your instructors. This invaluable opportunity provides you with the ability to ask any questions you may have, get specialized feedback on your work, and receive guidance in healthy and functional food concepts from industry professionals.
2. What benefits does the GPS program provide that other online programs don't?
Besides the obvious advantages of consistent personalized instruction and a learning program which caters to your interests, the GPS program provides many other unique benefits like those listed below.
You will receive 60 credits, making you eligible to receive your certification as a Functional Food Scientist or a Functional Food Professional through the FFC. More information on these programs can be found on our website.

The learning process will be much less difficult than other online courses where you have to learn on your own. Not only will you be guided through your learning by your instructors, but your personalized project will also be directly related to your personal or company interests.

You will have completed a project which relates directly to not only your interests, but current studies in functional foods. This will give you practical experience in the field of functional foods which will undoubtedly assist you in your career and education.
Apply for the New Functional Food Center Guided Program of Study
July 31st, 2020
By Charlotte Giordano and Danik Martirosyan
We hope all is well as the world continues to adapt to the confusion caused by COVID-19. As a continuation of our dedication to education in functional foods, we at the FFC have created a new program called our "Guided Program of Study" (GPS) intended to practically teach you the concepts of functional foods. One of the most prominent features of this program is a curriculum that surpasses other online courses by providing a personalized project and day-to-day discussions with your instructors. The course includes 100 hours of guided training and allows for hands-on education through the completion of a personalized project in healthy and functional foods.
As the leading organization worldwide for education related to functional foods, we are constantly working on new ways to bring learning to interested people of all backgrounds. Accordingly, this program has been designed to provide education to all kinds of people from industry professionals to university students to those not involved in science at all. We will create a personalized project that will help you to achieve your educational, organizational, or personal goals in healthy foods. Whether this means gaining critical knowledge of functional food production for clinical trial studies, being taught how to provide your children and yourself with a healthier balanced diet, or learning which foods can treat chronic illnesses and how, the FFC is here to help.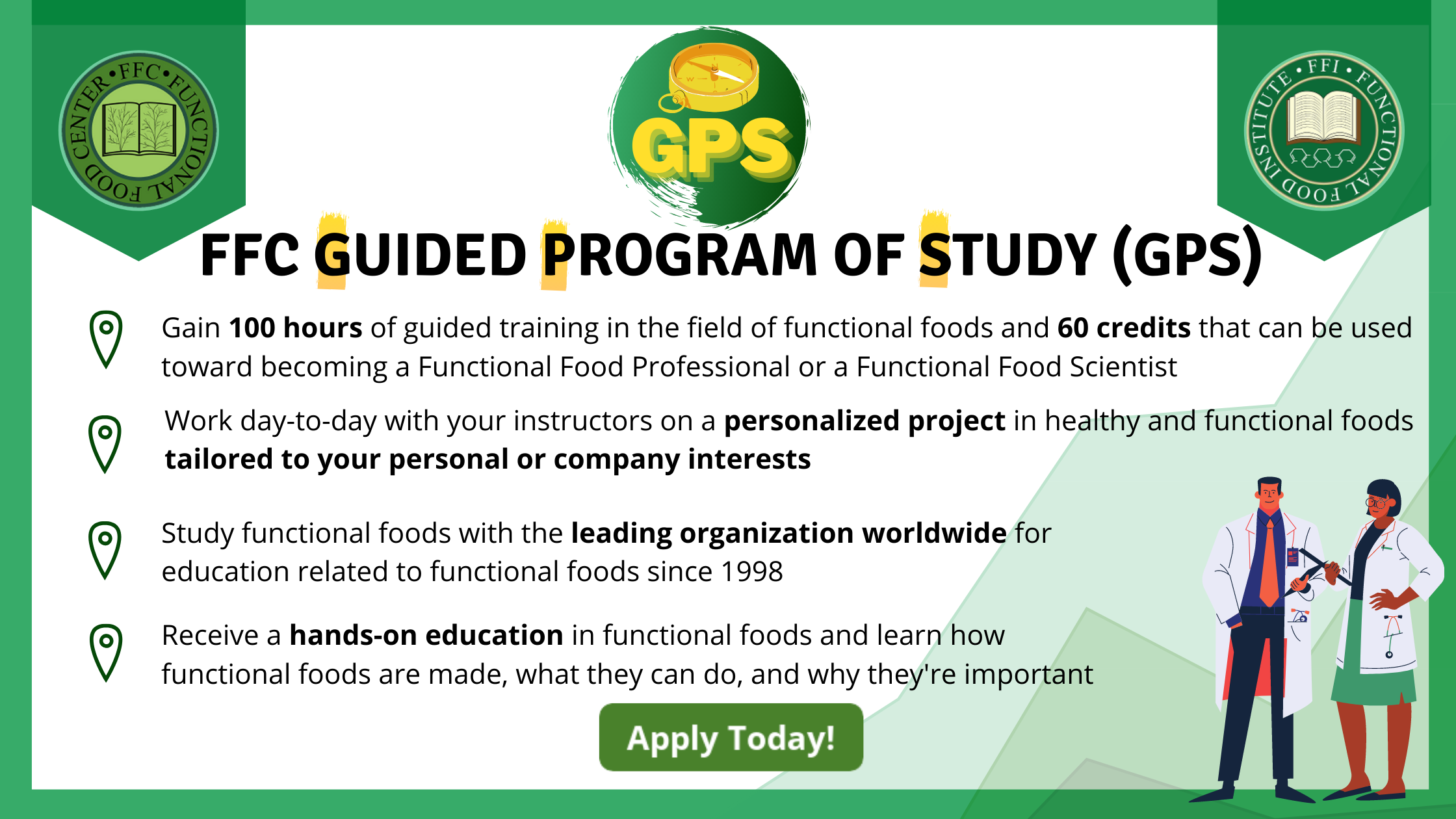 Benefits
By completing an FFC GPS course, you will…
Gain all 60 credits needed to become a certified Functional Food Scientist or Functional Food Professional.
Learn how to create recipes for healthy and functional foods and understand the bioactive compounds your body needs as well as the functional foods that provide them.
Receive day-to-day coaching and regular correspondence with your course instructors on your personalized project.
Gain practical experience in the field of healthy and functional foods.
1. Apply
Submit an application on our website outlining your experience in functional foods and your personal interests in functional foods.
2. Make a Payment
The pricing for a certification starts at $895, but if you are a member of the ASFFBC, you can become certified at only $695. Payment is conducted through our online store. Due to the pandemic, we understand that funding may be difficult. As such, we are providing the opportunity to pay for the course in smaller monthly installments, making it much more feasible and affordable. The primary goal of this program is to provide education in healthy and functional foods to any and all people that are interested and we want to make sure that financial constraints don't prove to be an obstacle to this education.
3. Complete an Interview
We'll schedule an online Skype call to discuss your interests and craft a personalized project for you to complete over the course of your program.
If you're interested or have any questions, send us an email at ffc@functionalfoodscenter.net. Further information about this program can be found on our website including what the benefits are and why the FFC is best suited to teach you about functional foods.