Register for the Standardized Program of Study (SPS) Today!
Become a Certified Functional Food Scientists/Professional today!
You can earn all 80 credits required to become a Certified Functional Food Scientist by completing the SPS.
---
Through this program, you will complete the following toe earn your certification:
8 pre-selected chapters from our Functional Foods textbook series
a few quizzes,
a final exam
---
How Do I Get Started?
1. Completed your application form.
2. Submit payment of $695 ($595 for ASFFBC members)*
LIMITED TIME OFFER
Use the code Standardized_100 to get $100 OFF of you SPS program fee*
3. We will schedule an online Zoom meeting in order to discuss you interests in more depth and agree on a personalized project for you to complete over the course of the program
Check out our informational webinar to find out more about SPS and the benefits of becoming a Certified Functional Food Scientist or Professional!
Have any questions?
Email us at ffc@functionalfoodscenter.net
---
---
Corporate Address: 5050 Quorum Drive, Suite 700, Dallas, TX, 75254, USA
Web:
www. functionalfoodscenter.net

Email:
ffc@ functionalfoodscenter.net
FFHD & BCHD

Published Articles April 2021, and WoS Updates
By the FFC Staff
Hello Readers,
Check out our featured published April 2021 articles from our journals Functional Foods in Health and Disease (FFHD) and Bioactive Compounds in Health and Disease (BCHD)
Click the buttons below to read fascinating research regarding functional foods and bioactive compounds.
Functional Foods in Health and Disease (FFHD)
Transcriptomic analysis reveals that combinations of vitamins A, D2, and D3 have synergistic effects in HCT-116 colon cancer cells by altering the expression of genes involved in multiple canonical pathways including apoptosis, regulation of the... by Gail Mahady, Pinal Kanabar, Nina Los, Temitope Lawal, Shitalben Patel, Mark Maienschein-Cline, and Zarema Arbieva
---
Tuna blood inhibits lipopolysaccharide-induced inflammatory mediators in RAW264.7 macrophages by Wanwimol Klaypradit, Mantira Hawangjoo, Nujamee Ngasakul, Pennapa Chonpathompikunlert, Maruj Limpawattana, and Wanida Sukketsiri
---
Health Communication in Nutrition for Cancer Prevention in Thailand by Kamon Chaiyasit, Wittayatorn Tokaew, Karn Boonsiri
---
Plant-Based Polysaccharides and their Health Functions by Saroj Arora, Davinder Singh, Ankita Rajput, Astha Bhatia, Avinash Kumar, Harneetpal Kaur, Palvi Sharma, Prabhjot Kaur, Sharabjit Singh, Shivani Attri, Harpal Singh Buttar, and Balbir Singh
---
---
Bioactive Compounds in Health and Disease (BCHD)
Increased Sirtuin expression, senescence regulating miRNAs, mtDNA, and bifidobacteria correlate with wellbeing and skin appearance after Sirtuin- activating drink by Alexander Haslberger, Stephanie Lilja, Hanna Bäck, Carinna Stoll, Anna Mayer, Angelika Pointner, Berit Hippe, and Ulrike Krammer
---
Japan's health food industry: An analysis of the efficacy of the FOSHU system by Sukanta Mondal, Neelakanta Pillai Padmakumari Soumya, Saraswathy Mini, and Shali Kochuvelickakathu Sivan
---
---
Web of Science (WoS) J

ournal Citations Update
Using the citation reports provided by Web of Science (WoS), we have been able to monitor and understand the steady growth of the FFHD journal relative to other high-ranking journals featured on Web of Science.
Citation reports generated from Web of Science (WoS) have allowed us to track the growth of our journal FFHD compared to other high-ranking journals available on the WoS. Recently our H-index has increased to 18!
We would like to take this opportunity to thank you for supporting the growth of FFHD through the years by continuing to read and cite our articles. Below is an overlook of how much our journal has grown over the past few years.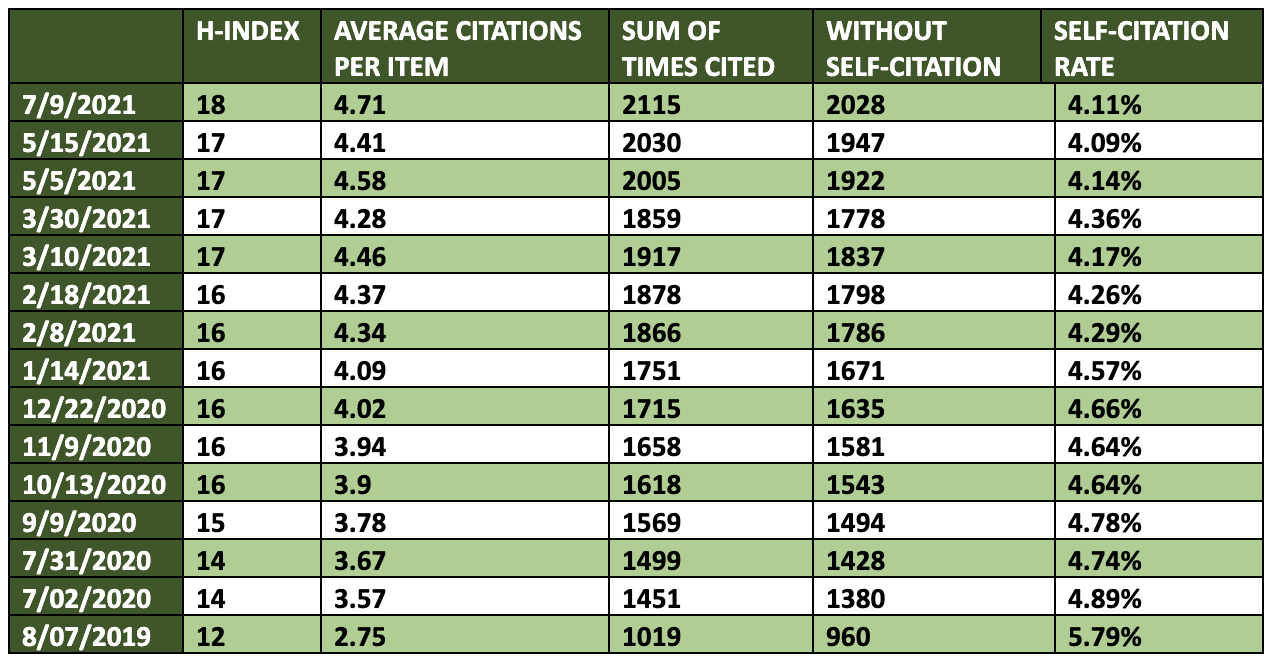 We encourage you to visit our journal website, https://ffhdj.com, to read our open access, peer-reviewed articles. If you find anything relevant or valuable to your work, make sure to cite our articles in your own research.
---
---
Interested in publishing your research?
Please also consider submitting articles to either the FFHD or BCHD journal!
You are receiving this newsletter because you are a valued member of our academic society and, as such, these published articles.
Click the buttons below to see more of our published articles or learn how to submit an article!