Register for the FFC's 29th International Conference Today!
April 29-30th, 2021
The theme of our virtual, online event will be "Can Functional Foods and Bioactive Compounds Reduce the Risk of Chronic and Viral Disease ?"
---
---
Join us as we gather together virtually to hear experts from the fields of medicine and food science discuss their latest research regarding functional foods and bioactive compounds, and their impact on chronic and viral disease!
Click the button below to learn more about our conference.
---
---
How to Register
Fill out and Submit our Registration Form
2. Visit our online store to make your payment for registration fee. Please click on the Conference Info button in the previous section to see our registration rates
Don't wait! Register as soon as possible because the registration fee will rise after the January 16th!
---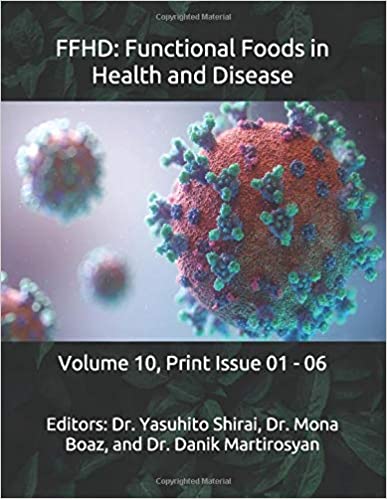 Print copies of FFHD's semiannual editions from 2011-2020 are now available for purchase!
Price: $145
These paperback semiannual editions of our journal Functional Foods in Health and Disease feature a compilation of articles that have been published from January to June or July to December from the year of your choice.
Students and university faculty members interested in learning about the latest research of bioactive compounds, including sterols, minerals, vitamins, as well as their roles in treating chronic and viral disease would greatly benefit from having this as a resource in their personal or university library.
Click the image above to view more information and a sample of our semiannual edition on Amazon.
Our semiannual editions are available for purchase on Amazon and our online store.
If you purchase from our online store, you can get 20% off from your purchase if you use the code: "PRINT JOURNALS20%"
Get your copy today!
---
---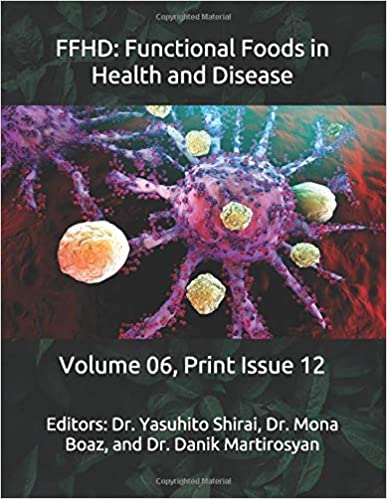 Print versions of single monthly issues from 2011 to 2020 are also available for purchase on our online store and Amazon.
If you purchase from our online store, you can get 20% off of your purchase by using the discount code: "PRINT JOURNALS20%"
This would also make a great resource for research and studying for students and professors to have available in their university libraries.
Click the image above to look at a preview of one of our single month issues!
Published January 2021 FFHD & BCHD articles and Journal Updates
By the FFC Staff
Hello Readers,
The first set of articles for the year from our journals Functional Foods in Health and Disease (FFHD) and Bioactive Compounds in Health and Disease (BCHD) are now available! In this newsletter, you will also find an updates on the growth of FFHD on Web of Science and Scopus.
The FFC appreciates your ongoing support as we continue to further the growth of the emerging field of functional food science. We are pleased to present you with this fascinating research demonstrating the effects of functional foods and bioactive compounds in addressing various illnesses.
Functional Foods in Health and Disease (FFHD)
Effect of cassava on proximate composition, insulin index, glycemic profile, load, and index in health individuals: a cross-sectional study by Blessing Myke-Mbata, Simeon Adelani Adebisi, Terry Terfa Gbaa, and Basil Bruno

Read Here
---
Eryngium caeruleum essential oil as a promising natural additive: in vitro antioxidant properties and its effect on lipid oxidation of minced rainbow trout meat during storage at refrigeration temperature by Sara Bani Khademi, Majid Aminzare, Hassan Hassanzad Azar, and Mohammad Reza Mehrasbi

Read Here
---
Enhancing effect of glycine and tryptophan mixture on estimated glomerular filtration rate in healthy participants: A randomized, double-blind, placebo-controlled parallel study by Shunji Oshima, Sachie Shiiya, Yasunori Nakamura

Read Here
---
Flavonoids from the leaves and twigs of Lindera sericea (Seibold et Zucc.) Blume var. sericea (Lauraceae) from Japan and their bioactivities by Hari Prasad Devkota, Ayumi Kurizaki, Kazuki Tsushiro, Anjana Adhikari-Devkota, Kengo Hori, Mikiyo Wada, Takashi Watanabe
---
Bioactive Compounds in Health and Disease (BCHD)
Protective effect of Zingiber zerumbet Smith extract on thermotolerance by Yasuhito Shirai, Hisakazu Kobayashi, Shuji Ueda, Yun Sang Soon, Akiho Kushiya, Ryosuke Tsumagari, and Minoru Yamanoue
---
No evidence of allergenic reactions to soy lecithin phospholipids used in Membrane Lipid Replacement studies by Garth Nicolson and Robert Settineri
---
Scopus CiteScore Now Available
Now that our articles from FFHD have been added to Scopus, we are now able to update you with the progress of FFHD on this platform!
The CiteScore methodology of monitoring journal growth by generating a ratio between the number of citations that a journal has gotten from articles that have been published in the last 4 years compared to the total number of publications that a journal has released in the last 4 years.
From now on, we will periodically update you on our CiteScores to reflect our more recent growth in the last four years.
---
Journal Citations Update
Using the citation reports provided by Web of Science (WoS), we have been able to monitor and understand the steady growth of the FFHD journal relative to other high-ranking journals featured on Web of Science.
Citation reports generated from Web of Science (WoS) have allowed us to track the growth of our journal FFHD compared to other high-ranking journals available on the WoS.
We would like to take this opportunity to thank you for supporting the growth of FFHD through the years by continuing to read and cite our articles. Below is an overlook of how much our journal has grown over the past few years.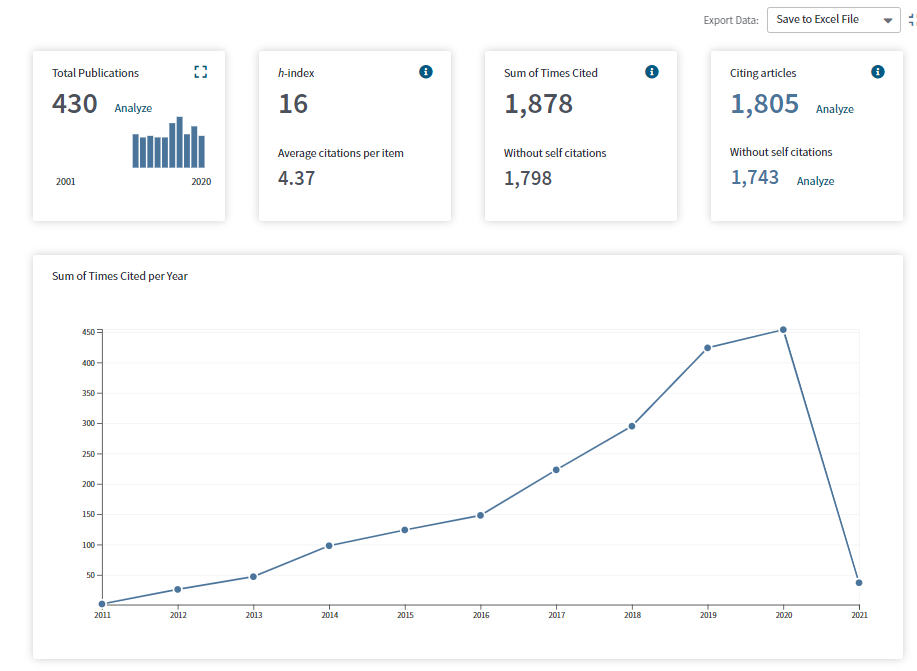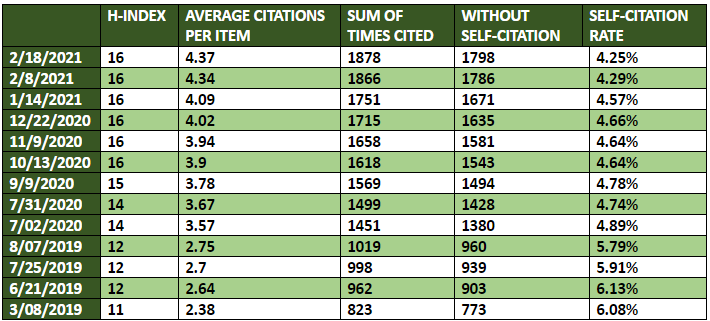 We encourage you to visit our journal website, https://ffhdj.com, to read our open access, peer-reviewed articles. If you find anything relevant or valuable to your work, make sure to cite our articles in your own research.
Interested in publishing your research?
Please also consider submitting articles to either the FFHD or BCHD journal!
You are receiving this newsletter because you are a valued member of our academic society and, as such, these published articles.
Click the buttons below to see more of our published articles or learn how to submit an article!