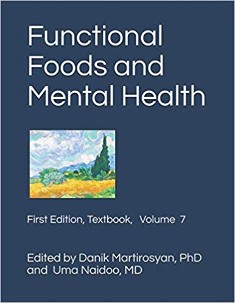 "Functional Foods and Mental Health" Volume 7
Edited by Danik Martirosyan, PhD, and Uma Naidoo, MD
Series: Functional Food Science
Paperback: 448 pages
Publisher: Food Science Publisher
ISBN-13: 978-1704411873
Product Dimensions: 8.5 x 1.1 x 11 inches; Shipping Weight: 2.8 pounds
——————————
Customer Reviews
——————————
***
5 out of 5 stars, Alison: Educational, professional and well formatted, Reviewed in the United States on November 8, 2019.
This book includes knowledge on functional food components, including antioxidants, dietary fibers, prebiotics, plant sterols, bioactive peptides, and flavonoids. The book discusses the most recent developments in nutrigenomics, molecular biology, and epidemiology, and the production, marketing, and distribution of functional foods.
The charts and pictures were conducive to learning.
This book was well formatted and professional looking.
I definitely recommend using this text in course work.
——————————
***
5 out of 5 stars; Marilyn Pereira: An invaluable resource, Reviewed in the United States on November 11, 2019.
This textbook does a excellent job at presenting ingenious information focusing in the field of mental health. By explaining bioactive components found in food, and how food can offer health benefits alongside nutrition. Through the chapters one can see how focused the information is at mentioning potential solutions for mental disorders and other mental concerns. The layout is easy to follow and is presented in a manner that makes finding specific information simple. A useful instrument for both professional and students alike.
——————————
***
5.0 out of 5 stars: Lauren S. Engaging and informative; worth every dollar! Reviewed in the United States on November 12, 2019
This book had a clear, organized structure that made it easy to follow. Being an undergraduate student with lots of required texts to read, I personally lose interest in books that present irrelevant or uninteresting topics. However, I was engrossed in every chapter of this book and learned a lot of cool stuff! Would definitely recommend to anyone interested in functional foods, mental health, or both!
——————————
If you are one of our readers and would like to get 30% discount you should purchase through our website. If you re interested please contact us at
ffc@functionalfoodscenter.net
Functional and Healthy Foods for Longevity: Bioactive Compounds and Biomarkers in Age-Related Disease


28th FFC International Conference
August 28-29 2020, San Diego Conference Center, San Diego, CA, USA
Dietitians - Opportunities for CEU's
Functional Food Center's upcoming 28th International Conference located in stunning San Diego, CA provides the opportunity for dieticians to earn 14.5 CEU's approved by CDR. We understand that traveling under the current circumstances may be difficult, so we are offering a virtual option that will still earn attendees 14.5 continuing education units. This conference's goal is to connect global experts to discuss the roles of functional foods containing bioactive compounds as dietary interventions for chronic disease treatment and mitigation, specifically for age-related diseases. To learn more about this year's speakers and topics visit the conference preliminary program.
Conference Sessions and Topics
Each session is presented by experts in their fields and the hot topics discussed are selected from submitted abstracts. Topics include:
Session 1: Biology of Aging
Session 2: Functional Foods and Bioactive Compounds
Session 3: Functional Foods Ingredients Market: Bioactive Compounds and Healthy Aging
Session 4: Diet, Nutrition, and Older Adults
Session 5: Changes in Organ Systems Over the Lifespan
Special Topic: Functional Foods and Coronavirus Disease (COVID-19)
To view the full list of sessions, please visit our conference topic page.
Why You Should Attend
This conference allows experts and professionals from various fields to come together in order to expand their knowledge and gain new perspectives on the role of functional foods in chronic illnesses. Not only does it provide resources for attendees to network, but several awards will be presented to participants. Awards include the Best Oral Presentation, Best Poster Presentation, and Best Functional Food Product.
View our Award page to learn more about how they are selected and benefits associated with selection.
Register Today!
Registration for virtual or in-person participation includes:
Copy of conference material and recordings/power points
Conference book with a certificate of attendance
Certificate for 1-year free membership to the Academic Society of Functional Food and
Bioactive Compounds (ASFFBC)
Certificate for 14.5 CEU's (CDR approved)
The 28th International Conference pricing for Dieticians ASFFBC members is $200 and for nonmembers is $300, prices are effective untill May 30th, 2020. If you are interested in attending the 2020 conference, please fill out our registration form and to submit your payment visit FFC's online store today.
COVID-19 Update
Here at Functional Foods Center we have been working hard to expand our understanding of the coronavirus and how functional foods and bioactive compounds play a role in the fight against this global pandemic. Our focus is on functional foods and bioactive compounds and how they can enhance and support the immune system. A strong immune system is an important factor in the management and defense against viral diseases like coronaviruses.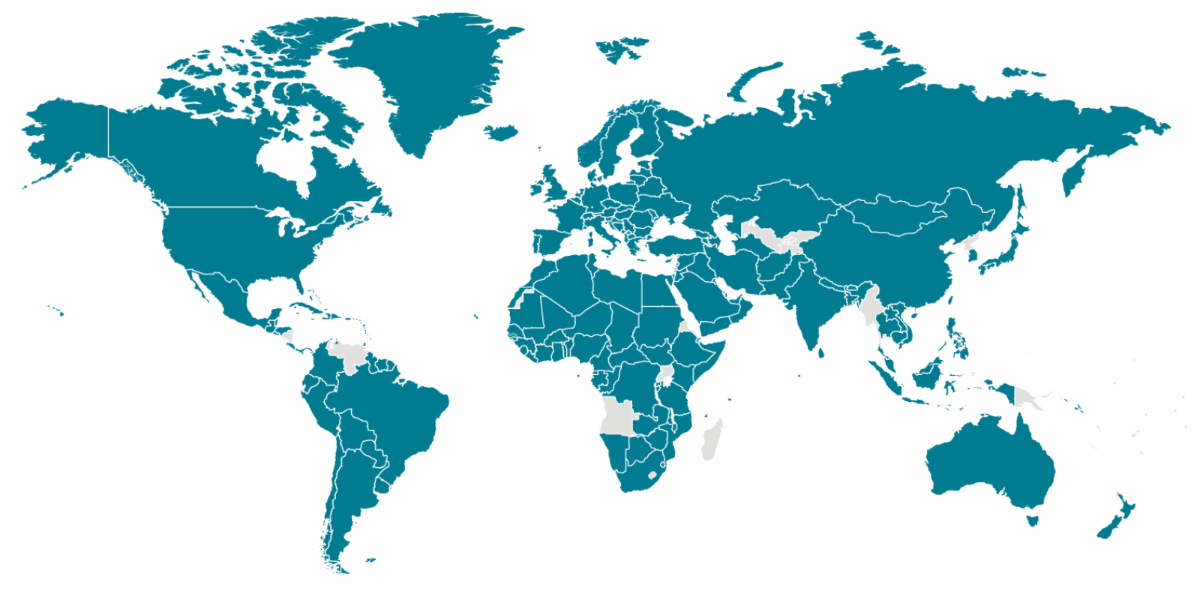 We are curious how pre-existing conditions, diet, education, and demographics impact the virus from country to country. We believe understanding the statistics related to these factors will help us better understand how to fight COVID-19 and other viruses.