Certified Functional Food Scientist/Professional program
Interested in expanding your career and your knowledge of functional foods?
Become a Certified Functional Food Scientist or Professional!
To become a earn your certification, you must earn 60 credits.
Credits can be earned in a variety of ways, including participating in our upcoming conference (20-30 credits)!
Click the button to learn more ways to earn credits
Completion of our Guided Program of Study (GPS) or our Personalized Project Program (PPP) provide the full 60 credits needed to become a Certified Functional Food Scientist or Professional.
---
Featured Functional Food Scientists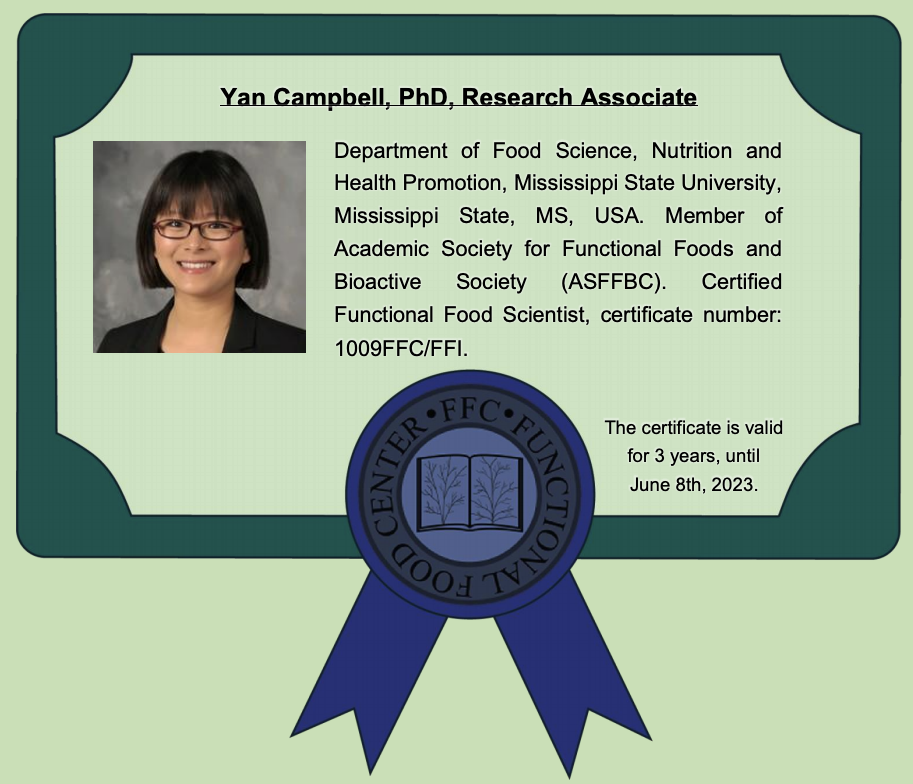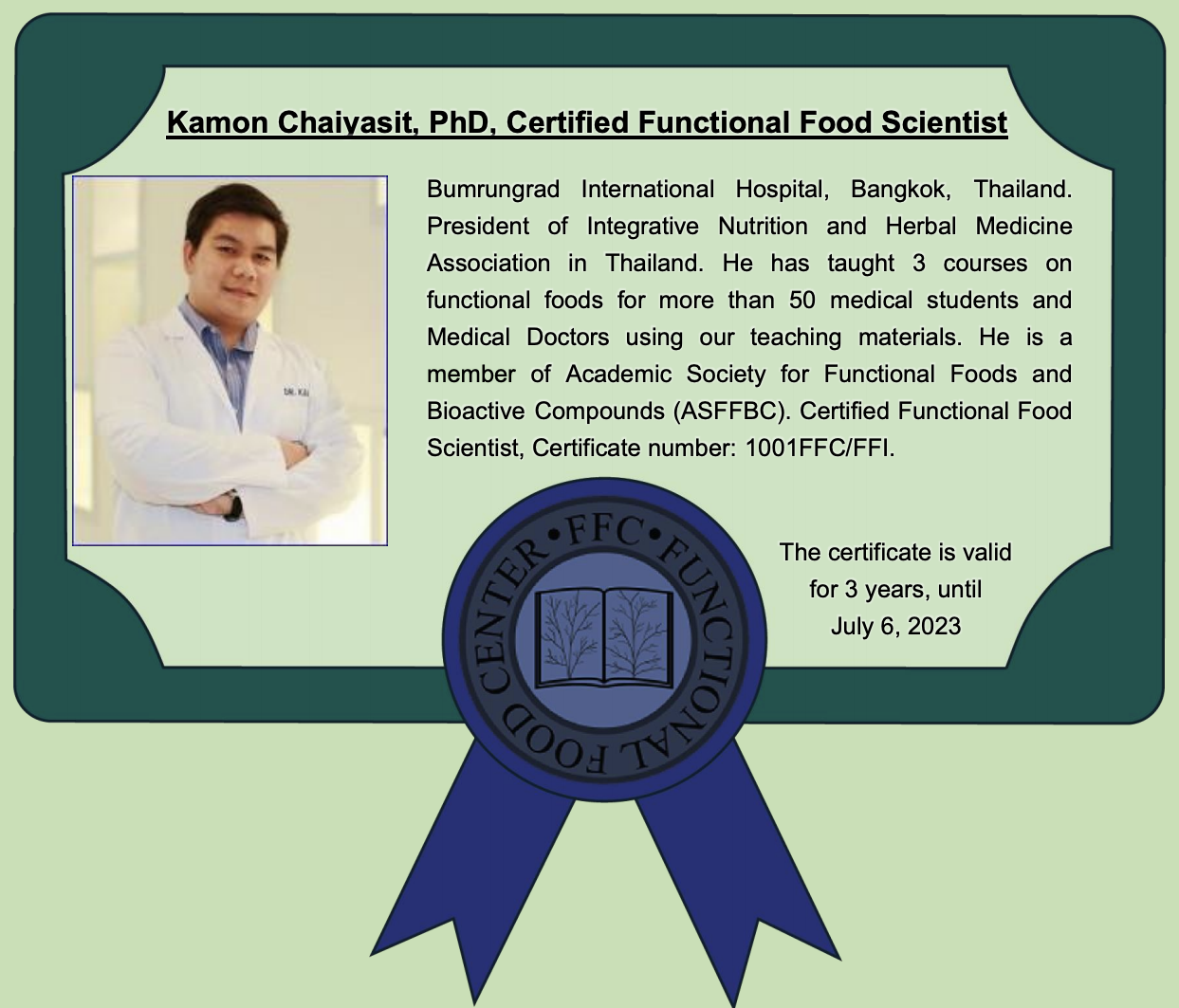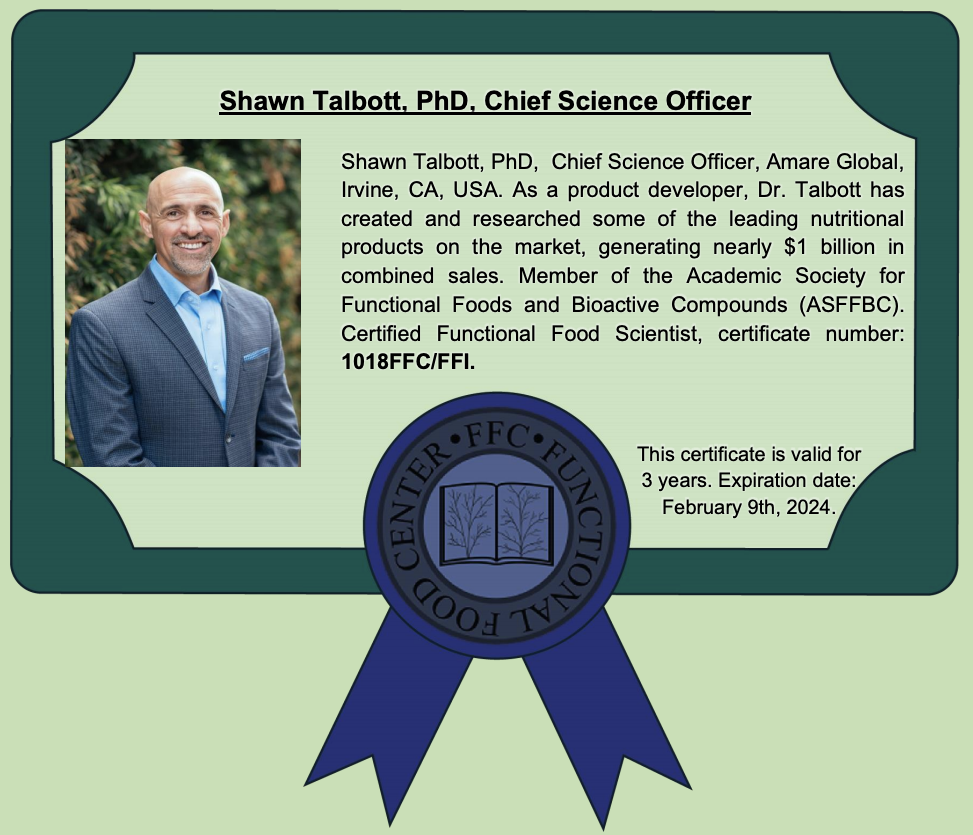 ---
Each program is a great opportunities to expand your knowledge on the emerging fieldof Functional Food Science, including several units on learning how functional foods (FF) and bioactive compounds can be used to reduce one's risk for contracting COVID-19 andmitigate health risks associated with the virus.
---
Which program is right for you?
---
Personalized Project Program
80 training hours
Self-guided training/study
Customized learning material
Gain eligibility for FF scientist/professional certification
Cost: $595
---
Guided Program of Study
80 training hours
Instructor-guided training/study
Customized learning material
Gain eligibility for FF scientist/professional certification
Cost: $895
---
Standardized Program of Study (SPS)
80 credits
Self-guided
8 pre-selected chapters
Quizzes at the end of the chapter
Final exam
Gain CFFS credential
Cost $695
---
Click the buttons below to learn more about each program
---
Mediterranean Diet, Functional Foods and Bioactive Compounds: Science and Practice
30th International Conference of FFC - 18th International Symposium of ASFFBC
September 23-25, 2022, Department of Food Science and Nutrition, University of the Aegean Myrina, Lemnos, Greece
By Dr. Antonios Kouteledakis, Organizing Committee Co-Chair of FFC30
Dear Readers,
I am pleased to invite you to join us for the 30th International Conference of FFC - 18th International Symposium of ASFFBC scheduled for September 23-25, 2022 in University of the Aegean, Myrina City, Lemnos Island, Greece.
The discussion topic is "Mediterranean Diet, Functional Foods and Bioactive Compounds: Science and Practice." Years of research has demonstrated the efficacy of the Mediterranean diet in reducing the risk of developing chronic diseases. Decreasing the risk of chronic disease can also reduce the risk of viral disease, as those with chronic disease are more vulnerable to contracting and perishing from viral diseases. Considering the impact of the Mediterranean diet on both chronic and viral disease, having a greater understanding the bioactive compounds that produce the beneficial effects of the Mediterranean diet can lead to improved health of the global population and decrease vulnerability to disease. Once identified, these bioactive compounds can be used in the development of functional foods for certain conditions and diseases This conference will bring together experts in food science and nutrition, medicine, biology, and the food industry to discuss the usage of functional foods with bioactive compounds as dietary interventions for viral diseases, such as COVID-19, and chronic diseases. Mediterranean diet and chronic diseases prevention (cardiovascular diseases, diabetes, cancer, osteoporosis, metabolic syndrome), the traditional functional foods of the Mediterranean diet (herbs, wild greens, olive oil, fishes, grains, fruits and vegetables) and their bioactive compounds, epidemiological data about Mediterranean diet adherence in the modern life style are several of the discussed topics of the conference.
The conference venue is on the campus of the University of Aegean in Myrina city, former municipality on the island of Lemnos, at North Aegean, Greece. The ancient town also garnered notice of Pliny the Elder who wrote that the shadow of Mount Athos could be seen in the town's forum on the summer solstice. Other authors of antiquity noted that the town include Ptolemy and Stephanus of Byzantium. Myrina is built upon a shallow bay split into two by a promontory jutting out to sea and carrying the ruins of a Venetian castle. Many of the town's streets are stone-paved alleys. The Roman Shore is quite beautiful, aligned as it is with stone-built houses of neoclassical design. The archaeological museum displays numerous exhibits from the island's remote (mostly prehistoric) past. With its clean, long, and sandy beaches, and its own Castle to boot, Myrina is a tourist attraction.
Apart from discussing recent developments related to Mediterranean Diet, Functional Foods and Bioactive Compounds, you may also enjoy bathing in the Roman Shore beach and having dinner at one of the fish taverns circling the traditional harbor, enjoying the caiques there and a view of the castle at night.
We invite you to learn more about our upcoming conference on our official conference page!
FFC 30th International Conference Page FFC 30th Conference Welcome Letter
---
Registration Fee
See below for the registration fee rates! Registration fees are in USD, and payments are completed using our online store. The registration fee will cover the Conference Proceedings book (Abstract book) and a 12-month membership to the Academic Society for Functional Foods and Bioactive Compounds. Each registration allows the registrant to present up to 3 accepted abstracts maximum. Registration includes access to the entire program and Expo, presentation materials, and networking with expert speakers and organizing committee members.
Visit our conference page to learn about our cancellation policy.
---
Interested in submitting an abstract?
Consider this an opportunity to share your research to a global audience! We encourage you to submit your abstract to be considered to present at FFC's 30th International Conference.

Starting September 10th, 2021, we will be accepting abstract submissions. Our organizing committee members will review all submissions, then decisions on selection will promptly be communicated via email.

Please visit these links for more details:
Abstract Submission Procedures Abstract Sample
---
Financial Aid
We understand that many have been impacted financially by COVID-19; thus, the FFC is pleased to announce that financial aid is available. Apply today to increase your chances of receiving financial aid. Applications are considered on a first-come, first-serve basis and are awarded until all available funding has been allocated.
Please visit the links below to learn more and apply
Financial Aid Information Financial Aid Application
---
Watch the 29th International Conference Video Here!
We are also delighted to present to you our compilation video from our last conference, FFC's 29th International Conference. This video contains segments from some of our featured presentations. If you were unable to attend our last conference, this is an excellent way to preview how our upcoming virtual conference will be conducted. We invite you to like and share this video with your colleagues.
---