Congratulations to our newest Certified Functional Food Scientists!
---
Click the ceritifcate to learn more about each CFFS!
Shawn Talbott, PhD, Chief Science Officer, Amare Global, Irvine, CA, USA
Bernard W. Downs, Founder and CEO, Victory Nutrition International, Inc. Lederach, PA, USA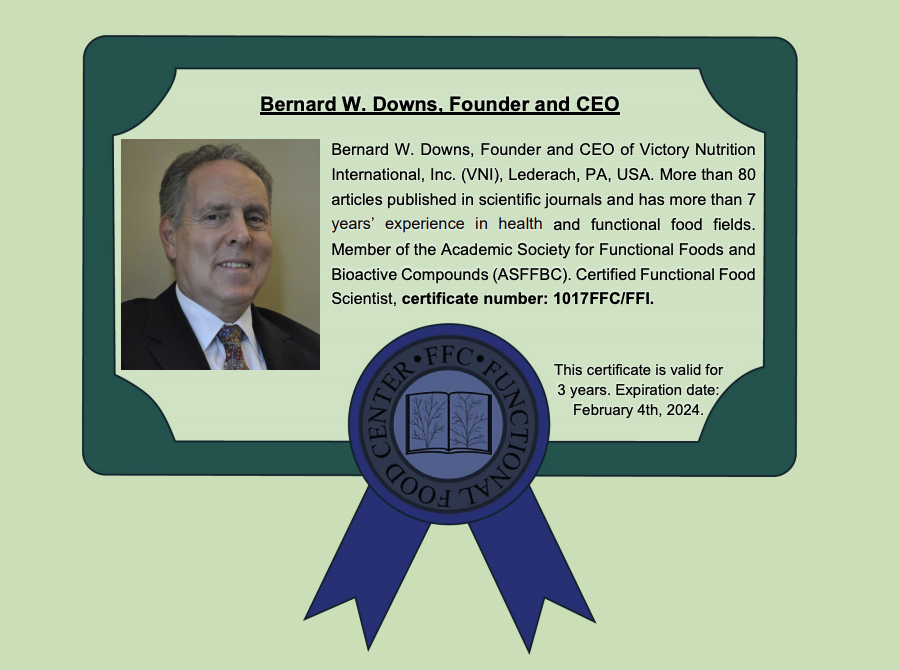 Debasis Bagchi, PhD, Professor, Department of Pharmacological and Pharmaceutical Sciences, University of Houston College of Pharmacy, Houston, TX, USA
Yan Campbell, PhD, Research Associate, Department of Food Science, Nutrition and Health Promotion, Mississippi State University, Mississippi State, MS, USA.
Uwe Albrecht, MD, Mediconomics GmbH, Hannover, Germany
Ping Ouyang, PhD, Assistant Professor, Dietetics, Department of Family and Consumer Sciences, Western Michigan University, Kalamazoo, MI, USA
Click this link to see full list of certified Functional Food Scientists and Professionals.
FFC Standardized Program: a new way to become a Certified Functional Food Scientist/Professional
October 25, 2021
By FFC Staff
Are you interested in furthering your career by expanding your knowledge in functional foods? Then, you might want to become a Certified Functional Food Scientist or Professional with the Functional Food Center. We have recently updated our Standardized Program to make the certification process easier and more accessible for all. You will attend weekly seminars to learn about what functional foods are, their relationships to health and disease, and functional food regulation systems. Use this knowledge to advance your career goals, teach your own courses, improve your diet, and so on. Upon successful completion of the standardized program, you also earn your Certified Functional Food Professional certification. If you are newly entering the job market, having this credential will stand out to future employers and be able to contribute specialized, valuable information in your future positions.
Check out our live seminar to learn more about the Standardized Program, our other certification programs, and benefits to getting certified. Then, fill out the application to get started! You can email ffc@functionalfoodscenter.net with any questions.
Standardized Program Seminar Standarized Program Application
---
Standardized Program Format
In our new Standardized program, you will attend weekly 1-hour live seminars done by Functional Food Center employees, interns, and associated professors.
These seminars will be an interactive experience held over Zoom. Throughout the session, there will be opportunites to answer questions based on the lecture via Zoom poll. You will receive instant feedback on your performance, and the lecturer will be able to review more difficult topics as needed.
Quizzes and exams are based on nine textbook chapters, written articles, and lecture recordings. Summaries and review questions will be provided to help you prepare for your tests. The Standardized program costs $695 ($595 for ASFFBC members) and is a simple, objective, and low-stress method to obtain your certification, especially if you have limited time. We hope to work with you on your journey to functional food certification!
---
Become a Certified Functional Food Scientist/Professional TODAY!
To become a CFFP/CFFS, you must earn at least 80 credits within 5 years. If you have already earned 15-25 credits from attending conferences , we highly encourage you to check out our options to earn the remaining credits needed for your certification!
We have recently added a Standardized Program of Study, which is designed to expand your knowledge on functional foods through objective and independent learning based on a combination of general functional foods topics and your specific interests.
Click the buttons below to learn more about our program options!
Guided Program of Study Standardized Program of Study
If you complete a Functional Food Scientist certification, you will be added to our Directory of Professionals, which will be a great advertisement for both you and your organization!